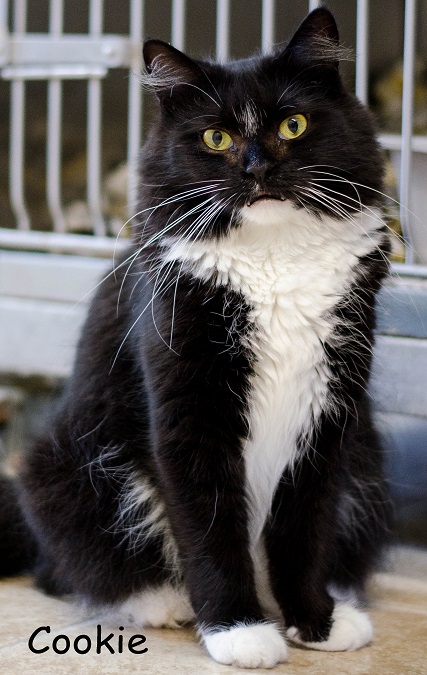 Show off your best friend in 2017!
Think your pet is picture perfect? This is your chance to show off your animal friends! Submit your pet's photo to the MetroWest Humane Society Pet Calendar Photo Contest and get the most votes to win a featured spot in the 2017 MWHS Calendar! Each vote is only $1 and 100% of the proceeds will be used to help homeless animals at the MetroWest Humane Society. There is no cost to enter, and you can enter as many photos as you like.
The twelve pet photos that receive the most votes at the contest's conclusion will be our top 12 winners, and the top photo will grace the calendar cover. We have a special spot reserved for our 1st and 2nd runner up, and any photo that gathers more than 25 votes is guaranteed to appear on the calendar.
So get those cameras ready for when your animal companion strikes that pose. All donations are tax-deductible and go directly to help residents like Cookie, a beautiful and lovable cat who has been waiting for a forever home since September.
Helpful hints:
Even though you can enter as many photos as you wish, you can increase your odds of winning by entering only your favorites so that your friends and family don't need to choose which of your photos to vote for.
Remember to check your standing frequently towards the end of the contest in case you want to vote again. VOTING IS VERY BRISK AN HOUR BEFORE THE CONTEST ENDS!!!
Since we can't guarantee what month each winning photo will land on, it's usually a good idea to avoid holiday themes. We like to allow our winners choose the month of their preference based on rank....so it is entirely that a furry Pocahontas may end up gracing May instead of November.
Lastly, remember every vote helps the homeless animals in our care, AND is tax deductible. Vote EARLY and OFTEN, we need your support.
Good Luck!!!